White Rogers Sequencers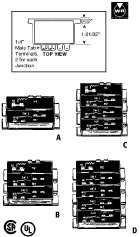 Above White Rogers sequencers no longer available
replaced by the Honeywell sequencer R8330D1039
---
R8330D R8330D1039 3 Stages 4 Switches $209.40


Click for larger image
Replaces most single or multiple element electric furnace sequencers One control switches a fan and up to three heating elements ON and OFF in sequence Sequencers connect by auxiliary switch to control up to nine heating elements Isolated fan switch has positive interlock to assure fan is ON when the element is ON, and fan is OFF when the last element is OFF Combination rating on the first element switch allows replacement of devices having fan and first element controlled by the same switch without rewiring furnace Cycles ON within two minutes, OFF within four minutes Quick-connect terminals and wiring accessories included for quick and easy wiring and installation Ambient compensated for -20°F to 162°F Meets or exceeds all industry standards Mounts in any position Thermostat current draw is constant (0.4A) Dimensions: 4-13/16" W x 3-1/16" H x 2-11/31" D
Replacement For:
Cam stat S106, S206, S306, S406, 14-100, 14-200, 14-300, 14-400,
---
Honeywell R4154A, R4154B, R4154C, R4154D, R8154A, R8154B, R8154C, R8154D, R8206A, R8206B, R8206C, R8330A, R8330B, R8330C, R8330D, R8330E, R8330F, R8330G, R8330H, R8330J, R8330K, W879A, W879B, W879C, W879D.
---
Robertshaw TDS-1, TDS-2, TDS-2-21, TDS-2-25.
---

Therm-o-disc 60704A, 1151, 1151A, 1152, 1152A.
---

White Rogers 24A11, 24A12, 24A14, 24A20, 24A21, 24A22, 24A51, 24A52, 24A53, 24A54, 24A55, 24A56,
Brands:
Amana 24A51-25, 24A53-107, 24A55-119, 24A55-120.
Standard 24A51-1, 24A51-5, 24A52-101, 24A52-111, 24A53-1, 24A53-101,
24A54-2, 24A54-5, 24A54-13, 24A55-105, 24A55-106, 24A55-101, 24A56-1.
Fedders 24A51-29, 24A51-2, 24A52-104, 24A53102, 24A54-17, 24A55-112.
Tuttle 24A51-17, 24A52-116, 24A53-6, 24A56-7, 24A55-113,
Day & Night, 24A51-18, 24A52-105,
Rheem 24A51-20, 24A52-123, 24A53-113, 24A55-121, 24A55-122.
Fraser & Johnson 24A51-21, 24A52-120, 24A55-115, 24A55-116.
York 24A51-22, 24A53-109, 24A54-15, 24A55-125, 24A56-8.
Coleman 24A53-112, 24A53-110, 24A55-126.
Carrier 24A51-26, 24A54-14, 24A53-108, 24A55-123, 24A55-124, HN67680006
Emerson 24A53-9, 24A53-114, 24A55-127, 24A56-9.
Southwest 24A51-27, 24A53-111.
General Electric 24A55-103, 24A55-105
Singer 224A52-102, 24A55-109.
ITT 24A51-28
---
RBM 189
---

Texas Instruments 60000A, 60000E, 60200A, 60700A,